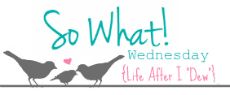 Let's get this show on the road! This week I am saying SO WHAT if...
I finally bit the bullet & bought 2 shock collars for the big dogs last night BUT know I will be sad when they are actually shocked? Yeah, the barking drives me CRAZY but I will still feel bad for them.
I got all mama bear on a couple of 6 year olds at the neighborborhood pool yesterday? Don't mess with my kid.
I made a strawberry cake this week just because?
I am already a little stressed out about being in the hospital with Griffin and away from Grayson? I mean, it's 3 days. That seems like a lot.
it is so dang hot that I have been averaging about 3 showers a day lately? Surely with all the sweating that is going on I just won't gain any more baby weight. Surely.
Go link up with Shannon @ L.A.I.D for So What! Wednesday!