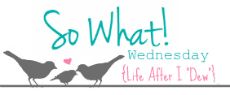 This week I am saying SO WHAT if...
I almost forgot that today was Wednesday? I swear, now that I don't teach calendar every single day to 6 year olds, I never know what day it is.
I took it really personal when Christina (excuse me, Xtina---stupid) got on to Tony Lucca for his song choice this week & basically said he was inappropriate? Number 1: 99 Problems was my favorite song during my sophomore year of college and was blasted many times during our "pre-parties." Number 2: DOES SHE NOT REMEMBER WEARING A THONG WITH CHAPS IN HER "DIRRRTY" VIDEO AND LETTING HER GIRLS HANG OUT ON TV EVERY MONDAY & TUESDAY FOR THE PAST FEW MONTHS?! Sorry, she bothers me.
I have approximately 47 bug bites on my body right now? It's worth the itch to see my boy happy in the backyard.
my child likes to walk around the house wearing his floatie & sunglasses?
Justin Bieber makes me feel like I'm 14 again and in love with Justin Timberlake? Oh, who am I kidding? I still love JT.
in an attempt to empty our pantry before our beach vacay next week I now realize we have no food? fail.