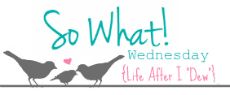 It's Wednesday! This Wednesday is more fun for me because we are at the beach! Yep, I may be mistaken for a beached whale this week but I don't even care...I needed a vacation! This week I am saying SO WHAT if...
I have SO MANY PICTURES that my computer AND iphone are pretty much always out of room? What can I say? These kids of mine will have one heck of a documented childhood.
I have an external hard drive to prevent this problem but never remember to use it?
I got a little sad when I sat down at our house on Saturday night because all 3 of our dogs were gone on "doggie vacay?" A house with no dogs is a sad house.
I have no desire to read "50 Shades of Grey?"
one of the reasons I am loving vacation is because I don's have to sweep and vacuum up dog hair every day this week? The maid is taking a break! ;)
my maternity bathing suit is pretty much equivalent to wearing a skirt and tank top to the beach? The more of this body that is covered, the better. Trust me.
I think there is nothing cuter than my little blonde boy playing on the beach in his seersucker swim trunks?