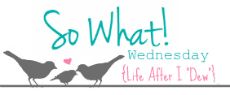 It's Wednesday! This week I am saying SO WHAT if...
I skip over the sponsored blog posts that everyone has to do at the same exact time? meh. b o r i n g.
I ruined my child's nap on Monday so that I could drive to Green Hills & meet Jen & Carsyn for lunch? It was so worth the cranky, whiny toddler!
I mean, how cute are these birthday twins?! I still can't believe they will be welcoming new baby brothers a week apart from each other!
I have been contemplating buying some fun scrapbook papers and making a paper chain countdown for Griffin's birthday? 89 days or less, people!
I spazzed yesterday morning when I realized I only have THREE months left of this pregnancy and then a REAL LIFE baby will join our family?
I really, really, really hate that my last day of MOPS is this morning? I love the group of girls I have met & become friends with and I can't wait for it to start up again in August!
my online shopping carts are always full but I rarely ever hit purchase? It's like window shopping...online.
I really want a new blog design but I really don't want to pay for one?
I got SUPER excited and perhaps squealed when I found out I won an awesome giveaway this week? I never win anything! I won an Oreck air purifier and can't wait to use it!!
That's all I've got, folks! Hop on over to
Shannon's
blog so you can link up!