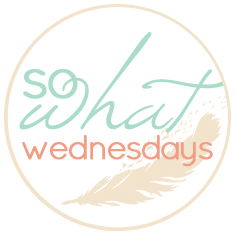 This week I am saying SO WHAT if...
I am now officially OBSESSED with tracking my food on My Fitness Pal?
my new favorite Pandora station is 2000's Hip Hop? It. Is. Amazing. Brings back some great Prom party bus memories!
I'm overly excited about consignment sale season?
my kid says RIDICULOUS things thanks to his daddy? Yesterday I heard this: "oh boy! Baby Giffin's dropping a doo doo bomb!"
we live out of laundry baskets most of the time? Clean clothes...but still, folded in laundry baskets. See also: I hate putting clothes away.
I have a usable diaper bag but I still want a new one? Actually, I am OVER diaper bags after 2 1/2 years. I need a really big purse with lots of pockets that costs less that $200.
I love my kids but I also love bedtime?
I just bought new running shoes for the first time since having kids? Yep. Do the math.
Every time I read a bedtime book that shows a picture of someone yawning, I yawn?