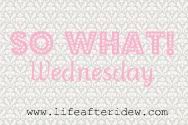 I am linking up with
Shannon
again for my weekly installment of So What! Wednesday. Hump day (
giggle
) has become a favorite just because I love reading all of these! So, this week I am saying SO WHAT...
if I am completely addicted to my whole fruit coconut popsicles. If I can't sit around drinking pina coladas all day (I think everyone would frown upon that), then I will eat them instead!
if I have now become obsessed with Twitter. It's great...why did it take me this long to figure it out?!
if I feel like a new person because G has been sleeping in until 6:15ish the past few mornings. Guess I've reached mama/adulthood when this is sleeping in.
if I really want to go to my favorite Oxford bar this weekend with my best friend and dance to DJ Mario. Who cares if 80% of the crowd is underage?
if I have had a bag of random stocking stuffers (

thanks, Mom

) sitting on the floor of our computer room since Christmas of 2009. You know how everything should have a home? Well I can't find homes for this stuff. Ben just noticed this last night and asked me why we had a bag sitting on the floor. He's pretty observant, obviously.
if it drives me insane that our neighbor's have about 457 people that live in their house & they park cars in front of our house every day/all day. In the words of Bon Qui Qui, "RUDE."
if I am following Jamie Lynn Spears on twitter. Stop it. Did I really just admit that? She lives a few miles down the road from me...maybe we will just be real life friends.