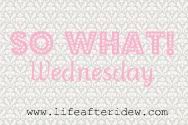 I'm linking up with
Shannon
for a little So What! Wednesday fun. This week I am saying SO WHAT if...
I get just as excited about my bloggy friends having babies as I do my real life friends. It's not creepy is it? Shout out to Melissa on the birth of baby Blaire Harper!
I have about 10 to-do lists going for G's first birthday party. However, nothing has been completed except for the invitations. It's much more fun to make lists with pretty sharpie pens than actually be productive.
I notice if I lose a blog follower. It confuses me. Have you ever tried to unfollow someone?? It takes a lot of effort. Sorry #81 that I suddenly seem uninteresting..
I spent about 75% of my free time yesterday figuring out how in the world to use twitter. I also discovered that I could follow the whole entire cast of Teen Mom. and Food Network Stars. and Brad Paisley...
College football is approaching and is making me feel nostalgic about my 5 fun years in Oxford. Can I get a college re-do?
I have a list of baby girl names sitting right next to me as I type.
Lots of those baby girl names have been on my list since high school so I'm not sure why I still write them down as if I am deciding whether or not I like them.
I have a list of baby girl names sitting right next to me and I'm not pregnant. pinky swear.
What are you saying SO WHAT to this week?? Go link up with Shannon!