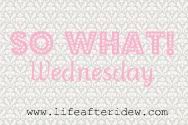 This week I am saying SO WHAT if...
I have become obsessed with G's 1st birthday party. You only turn 1 once, right??
I am still a bad couponer. I can't find coupons I actually need & it is beginning to irritate me.
I am really excited about a cookbook review I was asked to do. I am kind of giddy about the thought of trying a bunch of new recipes this week! I think that officially makes me old.
My child skinny dips in his baby pool in our backyard. Those swim diapers are expensive and I refuse to waste them on a baby pool!
My dining room table is covered in freshly washed towels & about a gazillion pieces of birthday scrapbook paper. Summer vacay makes me lazy.
I skipped my morning walk with G today. It's literally 99 degrees here today. Me in 99 degrees? HOT MESS.
**************************************************************************
It's Wednesday so that means it's time for my weekly grocery trip/menu planning day. I won't even discuss my coupon issues anymore because I just get frustrated. I am doing pretty good at stocking the pantry with Publix sale items, though! If only I could match a coupon with a sale item...
Anyway, like I said above, I was asked to do a review on a new cookbook. I'm excited! I was in a cooking rut & I am ready to try a bunch of new recipes this week. Hopefully I will get to the review part next week & share with y'all this new cookbook! Here is the menu:
Wednesday:
pretzel chicken tenders with greek roasted potatoes
Thursday:
BBQ chicken tortilla pizzas
Friday:
poppyseed chicken casserole...a staple in our house!
Saturday:
Thai chicken saute over rice
Sunday:
the Pioneer Woman's steak bites with masked potatoes
Monday:
sloppy joes and macaroni & cheese
Tuesday:
ground beef quesadillas