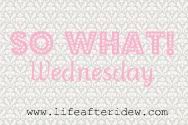 This week I am saying SO WHAT if..
My child only wants to eat chicken nuggets, goldfish, strawberries, and raisin bread. He'll branch out eventually, right?!
I am super excited about coloring my friend Mary's "All About Me" poster for school. I will certainly miss the coloring I did while teaching 1st grade!
I am having a hard time finding cute sandals for Grayson now that he is walking. Apparently I am a baby shoe snob.
I feel like I have formed a relationship with the blue bird family (Sir Birds-a-lot and Mama Bird) that always lay eggs in our nest during the spring and summer. 3 years is definitely long enough to form a legit human/bird relationship, right?
I am having a hard time picking which pair of chuck taylors I need for the fall. So many colors...it is hard for me to choose!
I still suck at couponing. Over. It.
**********************************************************************
I'm excited to share about the cookbook I have been testing out! So far, all the recipes are a hit! For now, here is our menu this week:
Wednesday: Poppyseed chicken
Thursday: out to dinner with my cousin!
Friday: Mustard Roasted Chicken with potatoes and carrots
Saturday: Pretzel chicken and macaroni & cheese
Monday: Ground beef quesadillas