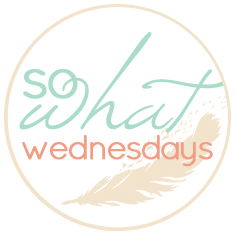 This week I am saying SO WHAT if...
I packed up all the warm clothing last week & woke up to snow on the ground this morning?
I am almost 28 years old and I just now learned how to make a hard boiled egg?
I am bummed about missing my 10 year high school reunion this summer? See also: HOW HAS IT BEEN TEN YEARS?!
I felt like my ears were bleeding after the Maroon 5 concert on Sunday? Look above. I AM OLD.
I legitimately want to throat punch Jillian Michaels when I do her workout videos? She. Is. Crazy.
there is a BALL PIT set up in my living room right now because we are so sick of playing inside & needed something new? We have a bad case of cabin fever.
seeing all of these new Twitter babies gives me newborn fevah? Then I remember my almost 8 month old still isn't a great sleeper. Poof. Fevah gone.