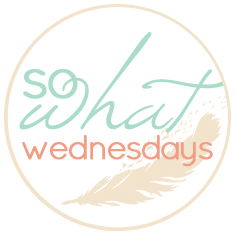 This week I am saying SO WHAT if...
I have become COMPLETELY OBSESSED with my own Operation Skinny Mama? Not bad obsessed...just finally feeling motivated.
I threw away all of G's Valentine's Day candy from school because he forgot about it & I didn't want to eat it?
I'm confused about Easter clothes because Easter is in March? You just never know what the temperature will be in the south. Last March we had the baby pool out & G was swimming in our backyard. Today we started out at 34 degrees.
There is still a small Christmas tree sitting in a box in our dining room? Just being honest.
My beautiful dining room farm table is constantly covered in a bunch of random stuff? Today, for instance, I see: my camera's tripod, a beach towel, A SMALL CHRISTMAS TREE, the infant insert from the Britax carseat, Christmas pajamas for next year, the K'Tan, and a random brown table cloth. Seriously.
I drove the boys Sonic yesterday for happy hour just so I could strap my stage 5 clinger baby in his carseat? Whew. Teething is not our friend.
that quick stop turned into an hour of wasting overpriced gas because said teething baby fell asleep?? I don't care how expensive the gas is...you never wake a sleeping (crabby) baby!