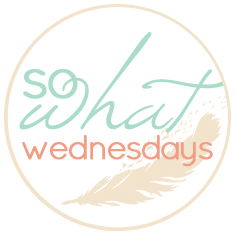 This week I am saying SO WHAT if...
I like to share Griffin's mum mum crackers with him? They taste like rice cakes!
We don't correct G when he calls the Easter bunny the "Easter Monies?" Haha! I'll correct him eventually. Maybe when he's 18.
I put all my calories for the day in MFP first thing in the morning so I know what I have left for snacks/dessert?
Dr. Phil is on my DVR?
I think little boys look RIDICULOUS in chevron pants or jon jons? Ridiculous.
I miss breastfeeding mostly because bottle washing is my least favorite chore?
G keeps telling me he wants a baby sister? Oy. This is my year NOT to be get pregnant...remember?
I took my dogs on a walk last weekend for the first time in TWO AND A HALF YEARS? So glad they run around in our backyard because that is pitiful.