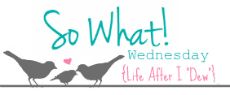 This is my last SWW post as a mom of 1. That is a pretty big deal, right?! This week I am saying SO WHAT if...
my child wore pajamas until 4pm yesterday?
I spent the final 15 minutes of G's nap time yesterday finishing off a carton of vanilla ice cream? I'm indulging in the calories while I have an excuse to.
I was really excited when DirecTV added back MTV this week? Don't you dare take away my Teen Mom!
thinking about fall clothes for G totally stresses me out? I actually kind of forgot about him needing new longalls & fall clothes until this week. I just can't look at pumpkins & Rudolph when it is 96 degrees outside!!
my unborn 2nd child has more clothes for the first 3 months of his life than I do in my whole wardrobe?
I am already excited about planning my first meal post-baby? I like food.
I mourned the loss of being called "mama" this week? G randomly woke up one day and decided I was "mommy." I've been trying to correct it but he seems pretty stuck on "mommy."
Go link up with
Shannon
& say "So What!"