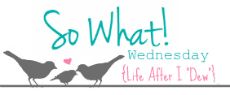 This week I am saying SO WHAT if...
I get excited over new people commenting on my posts & then quickly frustrated when I can't respond to them? I can't tell you how many times I have emailed back a "noreply" blogger. Sad face. PSA: pleeeaaasssseeeee link up your email address to your blog. thankyouverymuch.
I am starting to FREAK about how soon Griffin will be here? I feel like I should be a nesting & organizing fiend...but I am just not all that motivated.
my car always has crushed goldfish in the back floorboard? Always.
instead of cleaning bathrooms right now I am writing this post?
my toes probably look like a 5 year old painted them because it has become nearly impossible for me to reach them?
our grass is so dead that it could be mistaken for straw?
I don't water our grass nearly enough because I refuse to pay a hefty water bill when it will scorch anyway?
Go link up with
Shannon
to join in and happy 4th of July!!