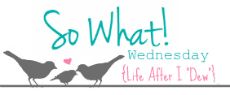 This week I am saying SO WHAT if...
I'm the only person on Twitter who doesn't watch The Bachelorette on Mondays? SO. BORING. and the same....every single season.
I just backed up all my pictures from September 2011 until now a few days ago? I live dangerously. See also: my computer couldn't hold anymore.
I've pretty much given up cooking until this baby arrives? It's too dang hot to slave away in the kitchen!
the only green things in our yard right now are weeds?
I've been watering my flowers whenever I felt the need and knew nothing of a water ban we are currently under? Here's to hoping I don't get a fine!
my new Oreck steam mop is my FAVORITE birthday present? I may be the ONLY girl that enjoys a good cleaning tool being gifted to me. Seriously. It's amazing.
I have a hard time turning our doorknobs now that we have those stupid toddler-proof handles over them? Toddler-proof? More like mama-proof.
Go link up with
Shannon
so you can say "SO WHAT?!" too...I promise, it will make your Wednesday better!