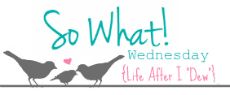 This week I am saying SO WHAT if...
all I want to eat for breakfast, lunch, and dinner is ice cream?
I will only drink water if it is out of my Tervis tumbler? I forget otherwise. That thing is pretty much attached to my hip.
I take 9875394857475 showers a day because being outside for 5 minutes turns me into a big sweaty mess?
I am already looking forward to watching the Olympics from a hospital bed in 2 weeks? Please don't misunderstand. I am not one of those crazies that says a hospital stay post-birthing-a-baby is like a vacation. I would rather be at home. BUT, if I have to be stuck at a hospital, I better have good tv to watch.
I get teary just thinking about leaving G for 3 nights while I am staying in that same hospital? wah.
I am 27 years old and just made my first HOMEMADE cake this week?
I miss the days when I could have the Today show on in the background every morning instead of "choos choos" & "the mouse?"