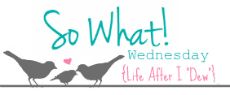 This week I am saying SO WHAT if...
I complain regularly about this ridiculous heat wave we are having?! I mean, triple digit heat + insane southern humidity for the next FIVE DAYS. I thought I would get lucky this pregnancy because I was skipping the August heat...nope, it's happening in June. Just my luck.
I almost always forget to brush G's teeth in the morning? We always brush them at night but for some reason I can't for the life of me remember to brush them in the morning.
I didn't realize it was Wednesday until about 7:45 this morning? oops.
I ate about 20 pounds of double doozie cookie cake this week?
I'm already starting to collect things for Grayson's 2nd birthday party? I know my brain will not be fully functioning after Griffin is born. I need to use these brain cells while I still have them.
the whole hospital stay post-baby STRESSES ME OUT? Having a child already makes things so much more complicated. I mean, G can't exactly stay at the house by himself. Not to mention, I am freaking out about being away from him for so long.
I'm already thinking of my dinner choices tomorrow night at Chuy's?
my dog is now on Xanax? He literally needed a chill pill.
Now it's your turn! Go link up with
Shannon
for SWW!