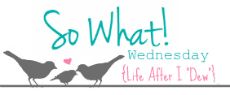 It's that time of the week again! I'm linking up with
Shannon
for So What! Wednesday. This week I am saying SO WHAT if...
I bought a bag of Louisiana hot sauce pork rinds and CANNOT STOP EATING THEM? It's bad. My mouth can't handle the heat...but Baby Dos is demanding them.
my blonde roots are peeking through and it looks a smidge like gray hair? Seriously. It's weird. I can't go to my girl for another 10 days...eep!
I love, love, love smocked clothing on little boys and girls? It's not old, it's timeless. AND I want my toddler to look like a toddler and not like a little man.
my child HAD TO HAVE HIS FROGGY IN THE TUB last night? You win some, you lose some. Last night? Mama lost to the screaming toddler.
sometimes I feel like my life is a never ending comedy routine that someone is secretly filming? Seriously. If you followed me around with cameras, you would laugh. Most of the time I am a hot mess, missing a brain, with a crazy child in tow.
I have eaten so many swedish fish that tummy hurts? ick. Baby Dos better be careful or he/she will come out looking like a piece of candy.