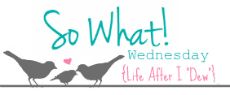 Is it already Wednesday?! Geez. I came
this close
to forgetting. I'm linking up with
Shannon over at L.A.I.D
(see, I am all about abbreviating these days) for SWW! (was that too much?) This week I am saying SO WHAT if...
I made lots of yummy desserts for a jewelry party last night & I am totally not interested in eating them? Remember?! I want fruity candy and spicy pork rinds.
I was ECSTATIC last night with the new 16 & Pregnant preview? Holy cow. These trashy teen girls on MTV provide me with lots of entertainment.

and maybe make me feel like Mother of the Year.

I'm already feeling pregnant? I don't mean the "oh this is fun feeling pregnant" thing; I mean the "my bras are digging in to my ribs because my belly is pushing upwards" and "I get short of breath WAY too easily" thing. 160 more days.
my new skinny leopard belt makes me feel sassy? I need some sass in my life.
I went to the store this week JUST to pick up more k cups...and then realized yesterday morning that I bought decaf? fail, fail, fail.
Happy Hump Day!