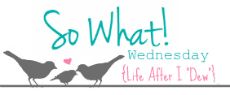 It's Wednesday (and Leap Day!) so it's time to link up with
Shannon at L.A.I.D
for So What! Wednesday...
This week I am saying SO WHAT if...
it is February and I have already turned on our AC? Yep, this mama is already hot.
it totally stresses me out when me out when the doorbell rings because my dogs go absolutely crazy? I'm talking out of control barking and jumping crazy...and it is almost impossible for me to answer the door.
I made buffalo chicken eggrolls last night for dinner but couldn't eat them because they were that spicy? Apparently I went a little crazy with the hot sauce.
I want to make a paper chain countdown for the actual BIRTH day of Baby Dos? I know, it's not until July...but did I mention that we SCHEDULED THE C-SECTION?!
it is driving me batty that we don't have a boy name picked out? I loved going to our gender ultrasound last time and knowing what the name would be either way. This time? Girl name is ready. Boy name? not so much. Baby Dos can't be Baby Dos forever!
This week has been so crazy and I feel like my brain is mush. Hopefully next week will be more uneventful! Happy Hump Day!