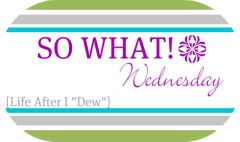 It's time to say SO WHAT with Shannon again! Go link up with
Life After I Dew
so that you can play along..you know you want to! This week I'm saying SO WHAT if...
I bought my 4th Christmas tree last night at Hobby Lobby? You can never have too much Christmas cheer. PLUS it was only $25. no big deal.

I splurged and got a spicy chicken sandwich at Chick Fil A last night? I have been doing so great with sticking to my points but I needed a fountain diet coke and spicy sandwich!!

I have already addressed most of our Christmas cards and it's not even Thanksgiving? For once in my life I am ahead of the game!

I keep trying on tunics, thinking they would look great with leggings, & then get home and they are too short? Apparently I have bad dressing room judgement.

G still sleeps in a sleep sack? Apparently they make very few large (12-18mon) sleep sacks. We need new ones & it has been like finding a needle in a hay stack. Nowhere to be found.

Grayson and I have been listening to the Biebs Christmas album every time we ride in the car? don't judge. It is that good.

I did a little happy dance over the fact that Teen Mom #2 starts in a few weeks? That show makes me feel good about my life. I can't wait to hear "JENNNNNEEEELLLLLLEEEEEEE" on a weekly basis. (That's not as good as BEEEEEEEEEEENTLEY)

I have been mentally obsessing over BlissDom for the past month? It's so convenient and all my favorite bloggers are going. Well, almost. Obviously I stand up well against adult peer pressure. C'mon,

JEN!!!

Let's get on it!
Okay, that's all yours truly she wrote. What are you saying SO WHAT to?!