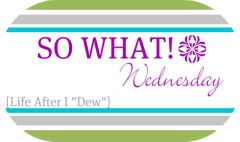 I completely blew off cleaning the house & changing sheets out on Monday because I had to catch up on blogging? I was WAY behind after a week with no computer. Priorities, people.
I want Grayson to be a garden gnome every single day of his toddler life? It's so dang funny. He looks hysterical.
I will STILL be watching the next season of Keeping Up With The Kardashians and I will STILL follow all of the Kardashian clan on twitter after Kim filed for divorce? I love me some Kardashian drama! People are taking Kim's "breaking news" a little too personal.
I'm not so much bothered by the whole fake-a-marriage-to-get-moolah thing as I am the fact that she chose a nobody-who-looks-like-a-caveman thing? If you are going to marry someone for publicity AND to get paid almost 18 million dollars, can't you at least pick someone people actually know? Poor Kris. His 5 minutes is up.
I almost SCREAMED in Wal-Mart this week when I finally found my Starbucks caramel iced coffee vias? I was SO excited. I stocked up and used coupons (thanks, Aubrey!!). I'm all set for awhile when it comes to iced coffee.
I have an unhealthy obsession with dry shampoo? Best. discovery. ever. I want to kiss the person that invented dry shampoo because now I don't have to dry my hair every single day. And that my friends? Well, it saves me about 20 minutes a day. Holla!
I joined Weight Watchers on a whim last night and have NO idea how to do it? The information overload kind of stressed me out.
Go link up with
Shannon
for So What! Wednesday!