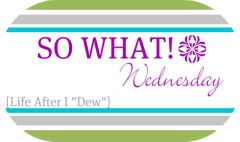 I'm linking up with
Shannon
today for So What! Wednesday...I almost forgot about it! This week I am saying SO WHAT if...
it has taken me 2 weeks to decorate our house for Christmas & it's still not finished? Decorating with a 2 month old was so much easier than decorating with a 14 month old.

I have 8 bottles of spray paint sitting in my garage from all my Christmas crafting? Spray paint makes things look better...especially glitter spray paint!

I make Grayson play in his crib until about 6:15? The child wakes up at the crack of dawn and I would not be a nice mama if I went in there at 5:30.

I bought a ton of deco mesh but suck at using it? Not as easy as it looks, people.

I am making my own ornament wreath when I could have spent less & just purchased the already made one at Target?

I really don't understand why some blogs are so popular?

The Hunger Games make me kind of nauseous? Don't get me wrong, I am hooked, but it is SO gory!

my child is dragging a bag of Christmas lights around while I type this post? Whatever makes him happy, right?
And, I'm done.