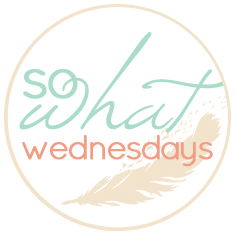 This week I am saying SO WHAT if...
I physically can't get past minute 33 of Bob Harper's Total Body Transformation? I. Am. Done.
I never return our library books on time?
my toddler asks where I'm going when I am not wearing work out clothes? Hmmm...does that mean I rarely wear real clothes? (guilty.) (I do work out though.)
my eBay addiction has returned and now I CAN'T STOP buying cheap necklaces from China? Can't stop.
blueberries are permanently stuck to my kitchen floor under Griff's seat?
I look at houses online constantly with no intentions of moving?
I clean my car out before I visit my parents so the inside doesn't stress my dad out? I'm still 16, apparently.
I think the majority of teenage clothing right now is tacky & awful? I think that makes me old.
I have no desire to start planning Griffin's birthday party? I feel like we just had Grayson's and it was 6 months ago.