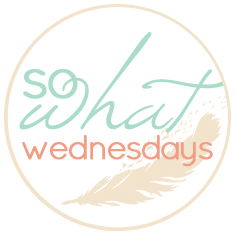 This week I am saying SO WHAT if...
if I have an amazing tank top farmers tan?
my legs are still a pasty shade of white and look ridiculous compared to said farmers tan?
we don't have grass? You read that right. We have only weeds. Hopefully Trugreen will help us out a little.
I think people look ridiculous doing "flex breaks" on Instagram?
my dining room stayed clean for only one week? Now I have a bunch of frames for our gallery wall waiting to be hung sitting on it. Oh, and our dog's cone for his head.
my baby is now crawling & I wish he would just hurry up and walk? Call it wishing life away, BUT? I feel like I need to keep my floors insanely clean when he is on his hands and knees. Impossible.
my child goes to Publix in his pajamas & snowboots on a regular basis?
our dinner was awful earlier in the week & we picked up Taco Bell after the kiddies went to bed?