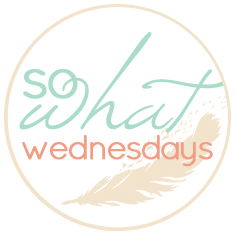 This week I am saying SO WHAT if...
my 8 month old still doesn't sleep through the night? I give up. Griffin hates sleep.
I want to hire a night time baby nurse? (see above)
my dining room is clean for the first time in probably 5 months?
I forgot to get G's haircut before his school pictures last week? I got the proofs back today & it looks like he has a mullet. Won't be buying those!
I'm so far behind on my DVR shows that I'm overwhelmed & don't know where to start?
I legit got mad at The Voice last night when that Audrey girl sassed my boy, Adam? RUDE.
I keep getting tempted by Facebook auctions to buy summer clothes for Griff when he clearly needs nothing? His closet is literally packed to y the brim. But baby boy things are so cute!
sometimes I wake up in the morning & the baby monitor is turned off? oops.
I have eaten 2 dozen dyed Easter egg over the past 2 weeks? Stick a fork in me...I'm done.
giving up carbs is way harder than giving up sugar?