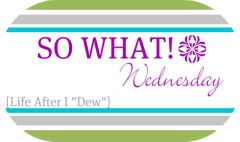 I am very thankful that it is Wednesday. That means we only have 4 more sleeps until Christmas!! I'm pretty sure Christmas this year will be the best yet...I can't wait to see G's face when he comes downstairs in the morning! I got in trouble by some friends for not participating in So What! Wednesday last week so I had to make sure I got with the program this week. This week I am saying SO WHAT if...
our stockings are already full of goodies?? This is the one time when we can get away with it without Grayson noticing...I had to mark one thing off my list!

Those stockings include our dogs? Of course they have presents and of course I made a special Petsmart trip just for them!

I watch Teen Mom 2?? I never said I agree with anything on the show...it's just for entertainment purposes.

I laugh at all the dumb breastfeeding vs. formula battles AND football arguments on twitter? I simply laugh so I don't pull my hair out. Who cares how you feed your baby as long as he/she is FED?!

I told a man at the store today that G was saying "hiiiii" to him (repeatedly) so that he would actually speak back? It's hurts his little feelings when people ignore him and don't say hi!

I feel like I have been losing my mind this week? (read: peanut butter in fridge; milk in pantry) G has been waking up at FIVE O'CLOCK IN THE MORNING coughing his head off and I am so sleepy.

my child sat in timeout before 7am yesterday morning? These terrible ones tantrums are ROUGH.