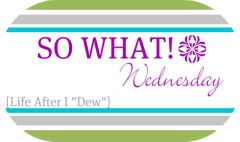 It's Wednesday, people! Time to link up with
Shannon
to say SO WHAT! This week I am saying
so what if...
I gave Ben a high five last night when he reminded me that Teen Mom 2 was starting again? I was SO excited...huge guilty pleasure. JENEEEELLLLLLLEEEEEE!

Ben & I have eaten at Panda Express three times since it opened a few weeks ago? oink.

there are 3 pairs of my pants "drying" on our bar stools? Apparently it has taken 3 days for them to dry. hmmm...

I have been SO STINKING TIRED every single night by 8:00 yet never go to bed before 10:00? so much to do (ie: read blogs, tweet, & heytell), so little time.

I want to hoard all of the yummy holiday coffee creamers before they disappear in January? Gingerbread? Warm sugar cookie? Peppermint mocha? YES, PLEASE!

my garage reeks of spray paint from all of the holiday crafting I've been doing?

I went to Goodwill last week & left feeling the need to shower? Just looking at the bin of used and dingy stuffed animals makes me cringe & feel itchy.
That's all she wrote. Happy Wednesday, friends!