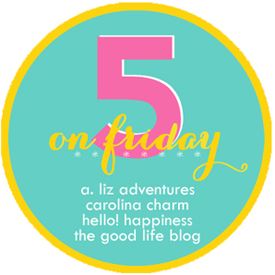 It's Friday & I haven't blogged all week. I promise we
did not
disappear. We did, however, have a sick house for most of the week & we lived inside in our pajamas! I'm linking up with
Darci
& the gang for Five on Friday. Here is a look at what went on this week...
1. Griffin woke up early on Sunday morning with a high fever. We skipped church and hung around house all day. It was rainy & gross out so it really wasn't that bad. I do hate when my babies are sick though!
2. Griff was still running a low fever on Monday morning but Grayson was feeling great. I assumed that it had missed him. We had a mama/toddler day date to Gentry Farms with some of our friends while Griff stayed home. We had a great morning at the pumpkin patch...I'll do a post on that next week!
3. Around 1:00 am on Tuesday morning, G came walking into our room completely hysterical. I thought he had a bad dream until I picked him up. He was burning up. Poor guy had a 102 temperature. SO, our Tuesday was spent at home, skipping school, & watching way too much Mickey Mouse Clubhouse.
4. After the boys napped on Tuesday, I started feeling bad. Sure enough, I also had a high fever. I honestly do not remember the last time I was sick with anything other than a stomach virus. It lasted 24 hours and was awful. Luckily Ben was home that night & took over so I could go to bed after dinner. He's a good man!
5. The only good thing about being stuck inside when your sick is that I was able to watch a whole lot of Parenthood during naps. I am on season 3 and I am hooked. This show is so good!! Why did I not watch it sooner?! My house may be an absolute disaster after this week, but I did watch about 10 episodes! Also? Now I want to be a Braverman.
Happy Friday, friends!