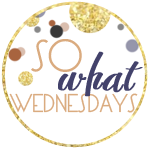 I took an unintentional SWW hiatus, but I just may be back! This week I am saying SO WHAT if...
I do not even remotely understand the Bento lunch box trend? Sometimes if I'm feeling like a Pinterest SuperMom I may use a cookie cutter on G's sandwich, but make a themed lunch with little tooth picks & decorated foods? Ain't nobody (at least not me) got time for that.
Dateline on Friday nights is the highlight of my week?
I literally wear workout clothes every single day of the week? One big plus of MOPS/bible study starting back up? I now wear real clothes on Wednesdays. You're welcome, husband!
I worry about never feeling done with having babies? For real. This is a legit fear of mine. GIVE ME ALL THE BABIES.
we are failing miserably at No Spend September? A 3 year old's birthday & trip to Oxford make it tough!
I think I may end up being more excited about G's big birthday present than he will be? I CAN'T WAIT!