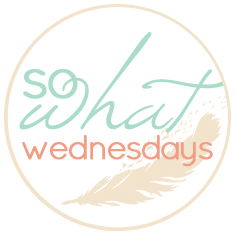 This week I am saying SO WHAT if...
I'm still terrified of letting G go out & about wearing underwear? I can deal with a leaky diaper...not soaking wet shorts!
I can't get back into my workout routine post-vacation? I knew I should have brought my workout DVDs to the beach!
my toddler has three mowers?
we are already weaning Griffy off of formula? I'm over that mess.
my life was made last night when Ben told me I could order ALL OF US matching Christmas pajamas? That's right. All of us.
I have the moving itch? Oh, whatever. I get the moving itch every spring & summer.
my children have more delicates & line dry only clothing than I do?
my baby only eats in clothes when we are at a restaurant?
I didn't wash my hair for 3 days post-wedding because my loose curls were awesome? I can't recreate them. Trust me. I've tried.