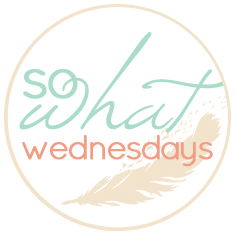 This week I am saying SO WHAT if...
I can't get into planning Griffin's 1st birthday party? Maybe it's because he is still so "baby" to me...I can't believe in 3 months he'll be 1!
I let my toddler "mow" in the rain yesterday while I watched from inside?
I still search eBay for smocked clothes for Griffin when he clearly needs none?
I have Dr. Phil on my DVR?
I wear my yoga pants so much that the seam completely ripped this week?
I vacuumed the house this week just because people from CRAIGSLIST were coming to look at our couch? I'm nuts. I know.
my toddler now requests to listen to "1994" and "Wagon Wheel" on a regular basis? Good ol' Tennessee boy..
my laundry sits folded in a basket for a few days after it's clean? I loathe putting clothes away. LOATHE.
I tore the house up on Saturday night looking for Griffin's knee sock for church? A knee sock. Of course I found it last night.
we try to bribe G every single day to use the potty?
I had to re-publish this because I forgot to schedule it & posted it on Tuesday night? Whoops. So What! Tuesday. Whatever.