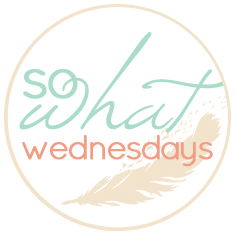 This week I am saying SO WHAT if...
I am behind on taking Griffin's 9 month pictures & blog post? This would have stressed me out way more the first time around.
I want to throw a brick through our TV when Jenelle & Kiefer are talking? THEY ARE SO DUMB. So dumb. Gimme Jace. He needs a less trash-tastic family.
I fell off the My Fitness Pal bandwagon while I was in Georgia?
my big dogs haven't had a bath in months?
the only Jack got a bath this week was because Griffin threw up all over him? Oops.
all the summer clothes that are out are making me feel old? I just think so many things are ugly.
our leftovers sit in our fridge for WAY too long?
I bite off Griffin's fingernails instead of using clippers? HE IS SO WIGGLY.