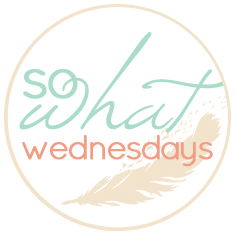 This week I am saying SO WHAT if...
after the boys went to bed last night I drove to Chick Fil A for their chocolate chip cookies? By the way, I don't appreciate how they put their calories on the board now. Oink.
When I drove to Chick Fil A I was wearing my pajamas?
I am terrified of taking TWO little boys to the pool this summer? THEY CAN'T SWIM.
I have a tan line from my tennis shoes?
I've been bad about using My Fitness Pal? Someone, PLEASE send me some more motivation.
I'm excited about my hair appointment tomorrow because it means 3 hours of quiet? I love hair days.
my car is full of crushed goldfish, thrown down baby toys, & Grayson's reports from school?
I am SO happy we're going to the beach in a month but dreading that long drive? I'm thinking it will be about 10 hours. 10 hours with a baby that hates the car. Fun times!
my favorite show of all time is the Real Housewives of Orange County? It just doesn't get any better than the original!