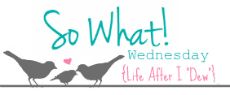 How is it already Wednesday? I'll be honest. I have lost all concept of time. I thought it was Monday all day yesterday...whoops.
I'm linking up with
Shannon at L.A.I.D
for So What! Wednesday. Today I am saying SO WHAT if...
I'm already slightly stressing about what to wear to a wedding in a few weeks? It's hard to look cute when you have a soccer ball in your belly. It's even harder to look cute when said soccer ball keeps growing.
Baby Dos has a name in our house and I kind of like keeping it a secret?
I get totally skeeved out when people touch my belly? Just because there is a tiny human inside of me does not give you permission to rub me like a cat. No thanks.
a 10 minute car nap totally ruined G's regular nap yesterday? We had so much fun playing outside ALL day!
my toddler knows how to use the Keurig? Now, if only he could walk up the stairs WITH my coffee...