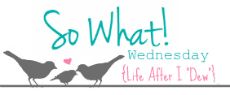 It's Wednesday and I can finally say that the germs have left our house.
This has already been a long week.
I'm linking up with
Shannon @ L.A.I.D
for SWW. Today I am saying SO WHAT if...
I am terrible at just sitting at home all day? AWFUL. That's like torture to me. We were stuck at home for 4 days this week...G and I were a tad stir crazy.
I want to eat a whole box of Thin Mints?
I kind of want to cry over the fact that G probably won't wear his cute longalls again this winter because of that dang cast? I love his clothes & nothing we own fits over his arm. We have borrowed lots of 2T shirts temporarily.
I have major mama guilt over that dang cast?
warmer weather makes me miss my blonde hair? Don't worry, hair, you'll be back this spring!
I think Blake Shelton was either a) on drugs or b) threatened by his wife on The Voice this week when he picked that awful RaeLyn girl? "You 2 did great but 1 did it better." Um, yeah, one girl WAS better and you clearly did not pick her.
I think Christina Aguilera's boobs need their own chair on The Voice? How embarrassed are you for her son?! Cover. The. Girls. Up.
I am now obsessed with the app "Draw Something?" Pictionary on my iPhone AND I get to draw things like Lil' Wayne?! sign me up!
Happy Hump Day!