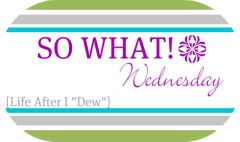 I'm linking up with
Shannon
again for some So What! Wednesday fun! This week I am saying SO WHAT if...
I am already wanting a new blog design? I literally JUST had this one done a few months ago. I really need to figure out how to do my own so I don't have to pay anyone!
I have a love/hate relationship with Twitter? It seems to be people's main source for complaining, it can be clique-y like middle school, the bandwagon hopping is ridiculous, and I'm pretty sure I liked some people more before I joined the twitterverse. Oh well. If I stop tweeting then I can't follow people like Giada, Bethenny, Jamie Lynn Spears, and Brad Paisley...and we all know that isn't happening!
I leave blog comments, tweet, text, call, AND heytell my friend Jen? What? Communication overload? I just like to cover all my bases.
I still want to buy more pumpkins? Hello, my name is Laura and I am addicted to pumpkins.
I like my dogs more than a lot of people.
I got a little choked up last night when I was looking at pictures from Grayson's birth? This year has f l o w n by & it makes me a little sad.
I made candy corn/peanut mix AND a double doozie last night? That candy corn mix by the way?? To die for.
What are you saying SO WHAT to this week??Go link up with
Shannon
!