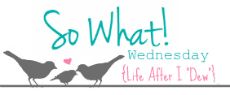 This week I am saying SO WHAT if...
I can't deal with my newborn being a crib all by himself?
I still have done nothing to prepare for Grayson's birthday party? I'll just throw his friends in our giant sandbox with some trucks & wing it. That should work, right?
my brain is absolutely fried these days? You can remind me about something & 2 minutes later it will be out of my brain. Lost forever. Baby brain never leaves, it just gets worse with each child you add.
I watch trash like "Here Comes Honey Boo Boo" & "Teen Mom" on tv? Don't judge. Teen Mom makes me feel like Mom of the Year & Honey Boo Boo is just pure awesomeness.
(speaking of Teen Mom) I was a little bit really sad that these original girls are now finished forever with the show? Thank goodness for Instagram so I can still keep up with Maci & Beeeeeeeentley!
I talk more with my internet friends than with my real life friends on a daily basis?
my hair & clothes smell like spit-up 78% of the time? Thanks a lot, acid reflux. I did not miss you at all.

my 2 year old knows what my pump is AND has tried to use it himself? Hope he doesn't need therapy later in life!
I am a lame blogger these days? Blame it on the newborn, y'all.
Happy Wednesday, friends. I'm off to feed a baby, do laundry, & wrangle a toddler! I know you're all jealous. Don't forget to hop on over to
Shannon's
blog & link up!