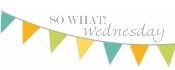 First of all, can I say how much I love the new So What! Wednesday logo?! Love me a banner. Cute, cute. This week I am saying SO WHAT if...
my DVR is about to explode now that all my fall shows are on. Yeah, I like tv. A lot.
I have a girl crush on Zooey Deschanel. I want to be her when I grow up. She is darling. And have you heard her voice?! A-mazing.
I was supposed to be doing a 30 Day Shred with some bloggy/twitter girls and I have royally sucked at it. I need to start over. For the love, someone motivate me!!
I take it personally when some bloggers n e v e r respond to comments. ever. what gives?
I have had 2 spicy Chik-Fil-A sandwiches this week for lunch. Me & G love Chik-Fil-A!
I have always wanted a gbff (gay best friend) -- think Carrie Bradshaw and Stanford. I want a shopping partner. My top 2 picks would be Christian Siriano or Carson Kressley.
I want to repaint my whole house. That would be a lot of paint.
I have major anxiety about leaving G during MOPS this morning. Separation anxiety sucks. Don't want my baby sad for 2 hours.