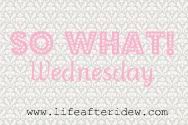 Today is my favorite day. Hump day. Grocery day (I'm weird). and....(drumroll, please) SO WHAT! WEDNESDAY! This week I am saying SO WHAT if...
I am a little too excited that one of my fave bloggers (cough *SHANNON* cough) switched back over to Blogger & now I can figure out how to follow her! Sorry WordPress people, it's too difficult for this non-tech savvy gal.
I have been frantically watching all of my DVR'd shows recently...like went to bed at midnight because I was so behind. We are switching to Direct on Thursday & my current DVR will be dunzo.
I am totally creeped out by Dish Network. After my annoyance with them last week, I tweeted (hate that work, btw) about it and not 5 minutes later they started following me on Twitter. What the frack?! Stalkers.
I am totally stressed about resetting my new DVR schedule. What if I forget something important like Teen Mom, RHOeverycityinAmerica, or Project Runway?!
I am a total baby boy clothing snob. I admit it. Boy stuff is so much tackier than girl stuff. Monkeys, Balls, & stupid sayings. Make. It. Stop.
I think that if I refuse to acknowledge the fact that my squishy newborn turns 1 on Monday then it just won't happen. Right? I want to keep him this way forever.
I pay for Netflix everything month but haven't actually used it since...um, April? No worries, I sent back the uber dusty Modern Family disc today.
Go link up with
Shannon
..I want to hear what you're saying "SO WHAT" to!