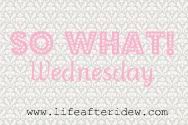 It's Hump Day
(giggle)
which means it is time for
Shannon's
So What! Wednesday. Happy dance! This week I am saying SO WHAT if...
It's hard for me to smile & be nice to certain people because I think they are bat-you-know-what crazy.
I got excited when I finally saw what they were adding to the shopping center in our neighborhood...a liquor store! Don't judge.
I want to throw rocks at the Dish Network people for the following reasons: taking away almost all of our HD channels (hello, BRAVO?! I need you!), screwing up my DVR (um, Teen Mom. I'm ticked), AND being three hours late (as of right now) to their appointment at our house.
I had a terrible dream that I completely forgot about Grayson's birthday party and nothing was prepared. Now I'm stressed.
It suddenly got cold in Tennessee and I realized yesterday that we have no warm clothes for our child. Oops.
I haven't done a menu plan in a few weeks. When I don't post it...I never stick to it. So here goes nothing!
Wednesday: BBQ chicken tortilla pizzas--recipe below
Thursday: baked pork chops, rice, and skillet apples
Friday:Tennessee State Fair...I will NOT be counting calories. Funnel cakes, come to mama!
Saturday: chicken tender fried rice
Sunday: dijon roasted chicken with carrots & potatoes
Monday: panko chicken bites with mango habanero sauce & rice
BBQ chicken tortilla pizzas have become a staple in our house. Ben and I both love thin crust pizza but I have never been able to create it on my own...this is the best way to do it! Here is my recipe:
What you need:
1 chicken breast
Your fave BBQ sauce (we use Sweet Baby Ray's original) -- I don't measure, sorry!
2 tortillas
shredded mozzarella
fresh cilantro
How you make it:
Preheat oven to 425 degrees. Coat your chicken with some BBQ sauce and grill it until cooked. When cooled off, cut it into small pieces. Place 2 tortillas on a cookie sheet and stick in the oven for about 5 minutes...just until slightly crisp. Take the tortillas out & put about 2 tbsp on BBQ sauce on your pizza. Spread it out almost to the edge. Add half the chicken to one tortilla & the rest to the other. Top with shredded mozzarella. Bake in the oven for about 10 minutes until the cheese is bubbly & the crust is slightly browned. Top with fresh cilantro. Enjoy:)