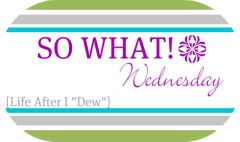 Happy Hump Day, folks. It's my favorite time of the week when I get to say "so what" to all the things that are driving me batty. Go link up with
Shannon @ Life After I Dew
so you can join in, too! This week I am saying SO WHAT if...
I have 35 spring & summer jon jons on my eBay watch list right now? So far this is a crazy mild winter & I feel like I need to thinking of warmer days! The Toddler must have cute clothes!
I went to my favorite children's boutique this week and really wanted to buy the 65% off Christmas sibling sets? Seriously, I would have been in BIG trouble if we knew what we were having. The cute smocked dresses? I die.
I have to trick my mind into thinking our house is on the market to actually keep it clean? I'm crazy, I know. But it's working!!
I'm still drinking coffee? Caffeinated. Pregnant. Trust me, you don't want to see this girl without her morning cup of creamer & a splash of coffee.
I haven't taken my "Don't knock, baby is sleeping" sign off our front door in over 24 hours? I guess I'm either a) a hermit, b) lazy, or c) both.
I still have 4 glass ornaments sitting on my dining room table? I ran out of room in all our ornament containers & it's driving me crazy not having a special place for them!
What are you saying SO WHAT to this week?!