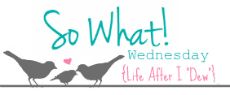 This week is going by fast! I can't believe it's already Wednesday. This week I am saying SO WHAT if...
I got a little overly excited last night when RaeLynn got kicked off The Voice? As in, I kind of scared the chihuahua.
I bought a bag of kettle chips on Monday & the empty bag now resides in the trash can? oops...
my Kelly's Kids clothes are still set up for my open house because I am way too lazy to move them? Yep, my house looks like a clothing store.
I feel inappropriate when The Lucky One preview comes on because I think Zac Efron looks HOT?! Isn't he a Disney star and aren't I a married, pregnant mama?!
benadryl might become my new best friend? Pregnancy insomnia sucks. Thank goodness G is now sleeping until 7:45.